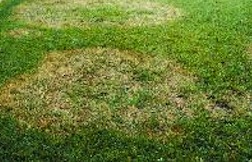 Fungal diseases in lawns are caused by an imbalance of different types of fungi in the soil or grass.  
In many cases, they appear as discoloured spots or thinned out patches, and are a sign that you haven't been caring for your lawn properly.  
Four of the most common fungal diseases are: Brown Patch, Pythium, Leaf Spot and Dollar Spot. 
Brown Patch causes irregular discoloured patches on the lawn and often occurs in summer, when humidity is high. 

 
Pythium often appears first as small patches of grass that appear water-soaked and a dark purplish colour and feel slimy to touch.

 

Leaf spot, also known as Black Spot, causes dark spots, mould and growths that look like cobwebs during warm, humid weather. 

 

Dollar Spot appears as small sunken straw or tan spots on the lawn, usually in autumn and spring when days are warm, humidity is high, and nights are cool.

 
If you notice any of these signs, it's important to take action quickly to prevent the spread of the disease. This may include applying fungicides, removing diseased plants, and adjusting your lawn care practices.