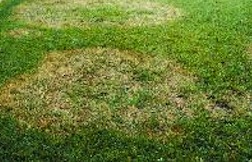 Brown Patch is triggered in a similar manner and time of year as the Leaf Spot disease.
These times will mainly be in the warmer months when humidity can be higher. However, Brown Patch may not always be seen in the heat of summer, but instead, be most common on either side of summer.
Brown Patch is most active and aggressive during t's peak growing conditions. This is when excess water continues to sit on the lawn for long periods of time under humid conditions. These peak fungus-growing conditions are usually brought on by ourselves when we water lawns at night time.
The Golden Rule: lawns should only ever be watered in the morning – never at night.
Brown Patch will be identified by circular dying patches of lawn, which will continue to grow in size from the size of a dinner plate up to a couple of metres in diameter. Multiple circles of Brown Patch are common on Buffalo lawns infected by the disease.
The brown and dying leaf of the Buffalo grass will also pull away from the grass stem very easily. On inspection, the lower part of the dead leaf will appear as a rotting dark brown colour.