What is Black Spot?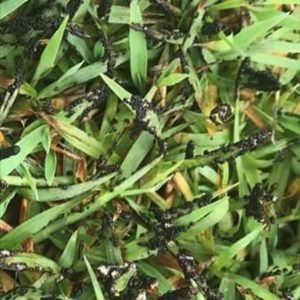 Black Spot is characterised by black spots on the upper side of your lawn's leaves and occurs due to fungal diseases such as Leaf Spot, Pythium Blight, Leaf Smut and Slime Mould.
These black spots not only look unattractive and serve as an eyesore, they sabotage the health and vigour of the lawn and weaken its structure.
During warmer weather, massive deluges combined with the heat and humidity create the ideal conditions for Black Spot.
General symptoms include, leaf blades with reddish-black to purplish-black spots, mould-like masses on the lawn and cobweb-like growths of fungi usually apparent during humid, wet mornings or evenings.
How to Control Blackspot?
The best approach to control Black Spot in your lawn is through a proper lawn care maintenance routine.
Proper lawn care maintenance ensures a healthy lawn and includes adequate fertiliser, reduction of thatch levels, aeration, morning watering that is deep and infrequent and mowing at regular intervals.
Alternately if the above lawn care maintenance procedures do not work, fungicides with the Common Active Ingredient – Iprodione should be used.
myhomeTURF recommends using Indigo Voltar an effective Broad Spectrum Fungicide that can be purchased through our myhomeTURF online store.