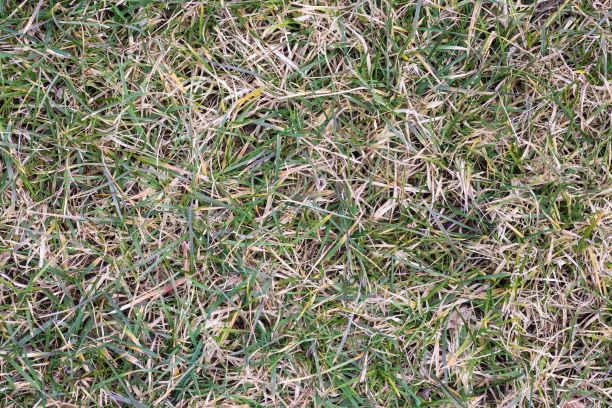 Thatch is a layer of dead plant material that forms between the soil surface, and the green leaves of your lawn. It can accumulate over time, giving your lawn a spongy feel when you walk on it. 
The formation of thatch, which can be a combination of dead leaves and stems, as well as excess root growth, is perfectly normal. Some lawn varieties are more prone to thatch than others, but in a healthy, vigorous lawn, thatch will naturally break down, and not cause a problem.
However, in older lawns, the thatch can accumulate, impacting the look and feel of your lawn, and making it more prone to issues such as waterlogging or being at risk of fungal diseases. 
You should aim to dethatch your lawn every Spring. 
The Benefits of Dethatching
Dethatching your grass is important for maintenance and the ongoing health of your lawn. Left untreated, lawn thatch can give rise to a range of more complex problems that can harm your lawn and leave you with an unsightly backyard.
Dethatching involves breaking through the layer of organic matter at the soil surface and improving grass health by allowing air and nutrients to make their way into the soil to feed your lawn.
The added benefit of this is that dethatching allows better water penetration, which means your lawn will not only receive the hydration it needs to thrive, but it will also prevent waterlogging, which can give rise to unwanted pests, weeds and fungal diseases that thrive in moist, damp environments. 
The result is a much healthier, better-looking lawn.
How do I know when to dethatch?
So how do you know when to dethatch?
Inspect and feel your lawn.

If your lawn feels spongy or bouncy underfoot or if it's springy it often has a thick thatch layer.

Have a look down into your lawn.

Is the soil visible between the leaves of the grass? Can you push your finger through a visible thatch layer? If you can't push your finger through, it needs dethatching.

Grab a ruler and measure the thatch.

Use a small spade to remove a wedge-shaped layer of your lawn and soil about 7.5 centimetres thick, or just use your fingers to dig up a small section of turf. Look for a thatch layer directly on top of the soil. Measure the thickness. If you've got thatch thicker than 12 millimetres, it's time to dethatch.
Dethatching should only be performed on warm-season grasses, such as Buffalo, Kikuyu, Couch and Zoysia. Cool-season varieties do not respond well to dethatching, and they may cause permanent damage to your lawn.
The best time to dethatch is in late spring, or early summer when the conditions allow for rapid recovery. Avoid dethatching through the warmest part of summer, in order to give your lawn the best chances of bouncing back to good health.
Also, avoid dethatching a new lawn before it has endured its first summer, as it needs to develop a strong root system to survive the heat.