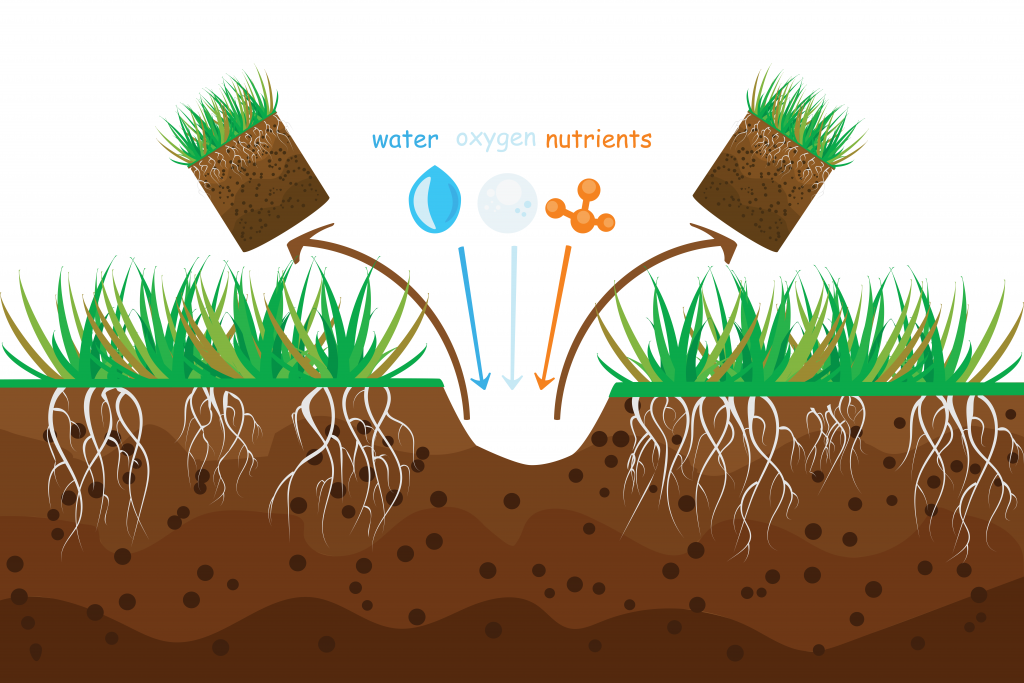 Lawn coring is a method of lawn aeration that involves punching holes into your lawn, and removing plugs of grass to improve the health and vigour of your lawn.
A lawn corer works by punching holes into your lawn and the soil beneath with its hollow tines. As the tines pull out of the soil, they remove plugs of soil, thatch and lawn, leaving open holes in the lawn's surface which allow it to receive more air, sunshine and water. 
Coring is useful for dealing with a range of issues, including compaction and thatch, as it allows water, air, fertiliser and other organic material to penetrate the grass, and deliver nutrients to the roots, where it is required.
However, lawn coring does require a specialised piece of equipment with hollow tines, or spikes, that dig into the soil. When pushed into the soil, the tines fill with soil, which is extracted as small plugs when the tines are pulled out, leaving a series of holes in the soil. 
Coring a lawn is not a difficult job, provided you have the right equipment. If you feel up to the challenge, you can hire a machine and do it yourself, or call out a contractor to do the job.
The Benefits of Lawn Core Aeration
Coring your lawn is the ultimate way to address serious compaction issues in your lawn. 
Soil compaction is common in clay soils and can be exacerbated by heavy traffic. Typical signs of compaction include poor drainage and waterlogging, and an increased likelihood of pests and diseases.
If not addressed, compaction can prevent water and nutrition from reaching the root zone of your lawn, compromising the health and vigour of your lawn. 
Unlike spike aeration, where solid tines (like a rake) are spiked into the ground, but no soil is removed, core aeration tackles the cause of compaction by reducing the overall density of the soil.