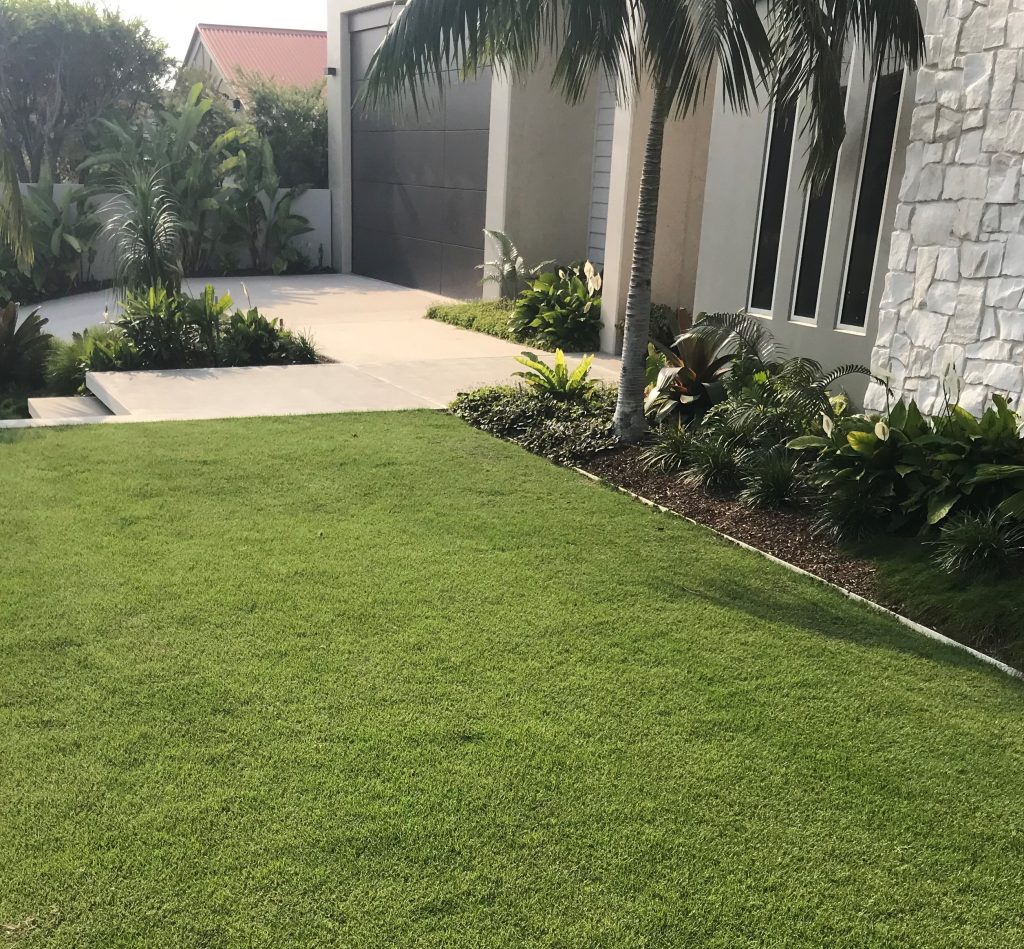 Native to south-east Asia, Zoysia grass is a fine-medium textured variety that truly thrives in warm, humid areas, making it an ideal choice for the tropical and subtropical regions of Queensland. That said, Zoysias are increasing in popularity in the southern states, and depending on the variety, can be an equally successful choice in warm temperate climates.
Zoysia grasses are a particularly good choice for homeowners who are looking for a low maintenance lawn as they require little mowing or watering. Featuring a deep-rooted system, Zoysia is very efficient at preserving moisture and stabilising soils, which means they also have exceptional drought and wear tolerance. There are several types of Zoysia that you can choose from, each with its own set of unique features, so you should consider the suitability of each variety when choosing a Zoysia grass for your yard.
Shade Tolerance
No lawn will survive in darkness, but Zoysia does have a moderate shade tolerance, allowing it to survive on as little as 2-3 hours of sunlight per day. This makes it suitable for gardens with large trees, or fewer hours of sunlight in winter.
Drought Tolerance
Zoysia grass is known for its drought tolerance. One of the main benefits of Zoysia grass is that it can survive on natural rainfall alone thanks to its deep-rooted system. It is this tolerance to dry conditions that make it a flexible variety that is suited to many Australian climates, and a low maintenance option for homeowners who want a beautiful lawn without having to worry about watering it frequently.
Maintenance Requirements
Zoysia lawns are renowned for being low maintenance, requiring less mowing, watering and fertilising than other popular lawn varieties. Perfect for the busy homeowner.
Zoysia grass needs less frequent mowing compared to other types of grasses. You should mow to a height of between 35mm to 45mm fortnightly through the spring and summer months. Through the cooler months, you can mow every 4-6 weeks.
Newly installed Zoysia grasses will need watering, but once established, this variety can survive on rainwater alone. Watering in winter will improve winter colour, and prevent damage from frost. Summer watering will prevent your lawn from drying out and turning brown. However, Zoysia has the ability to withstand long periods of drought without drying, which means it will go dormant but will green up again once water is available.
Zoysia grasses need to be fed once or twice a year with fertiliser.
Wear Tolerance
Zoysia grasses have deep roots and ​​underground runners, which means they have excellent wear tolerance and outstanding recovery in even the toughest conditions, making them ideal for family homes.
Popular Zoysia Varieties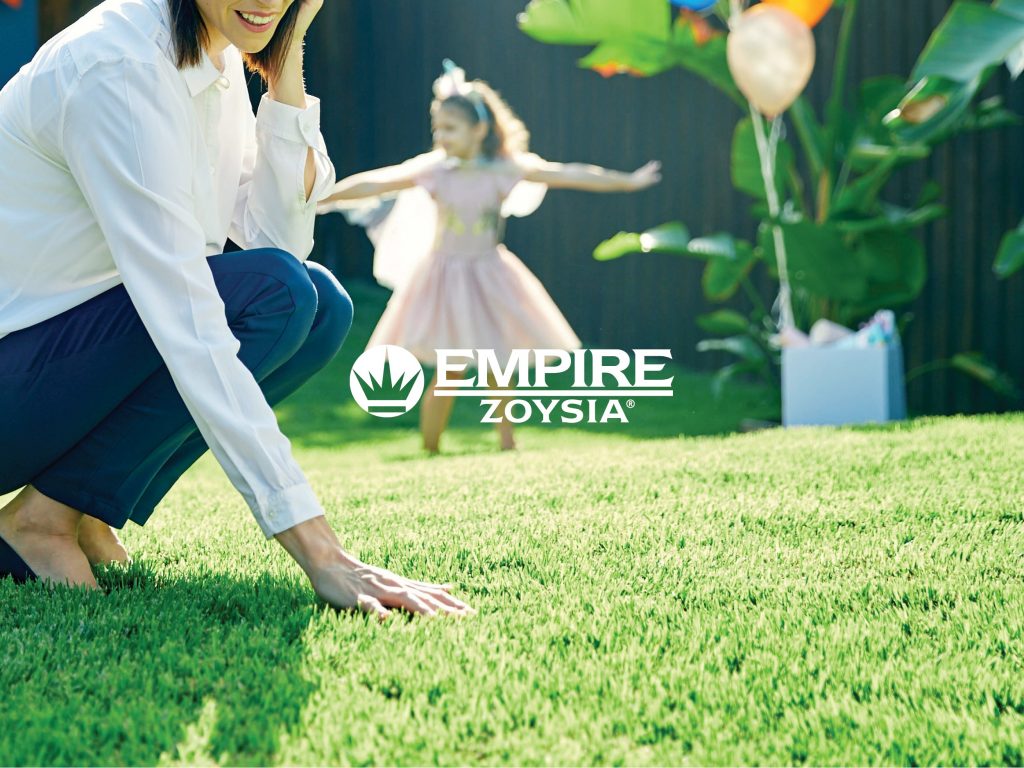 Empire Zoysia
Empire Zoysia is a soft, fine-leaf grass that is easy to manage and has excellent drought tolerance. It has a strong green colour through the cooler months, and has minimal maintenance in terms of mowing, watering and fertilising. It also has high wear tolerance, making it ideal for homes virtually anywhere across the country.
Nara Native Zoysia
Nara Native is Australian born and bred, has a fine to medium leaf, a dark green colour, and is a hard-wearing, low maintenance variety. Naturally salt tolerant, it is ideal for coastal homes and has high resistance to pests and diseases. Despite being a native grass, Nara Native Zoysia still has the attractive appearance of a domestic lawn and is a terrific all-rounder that performs under tough conditions.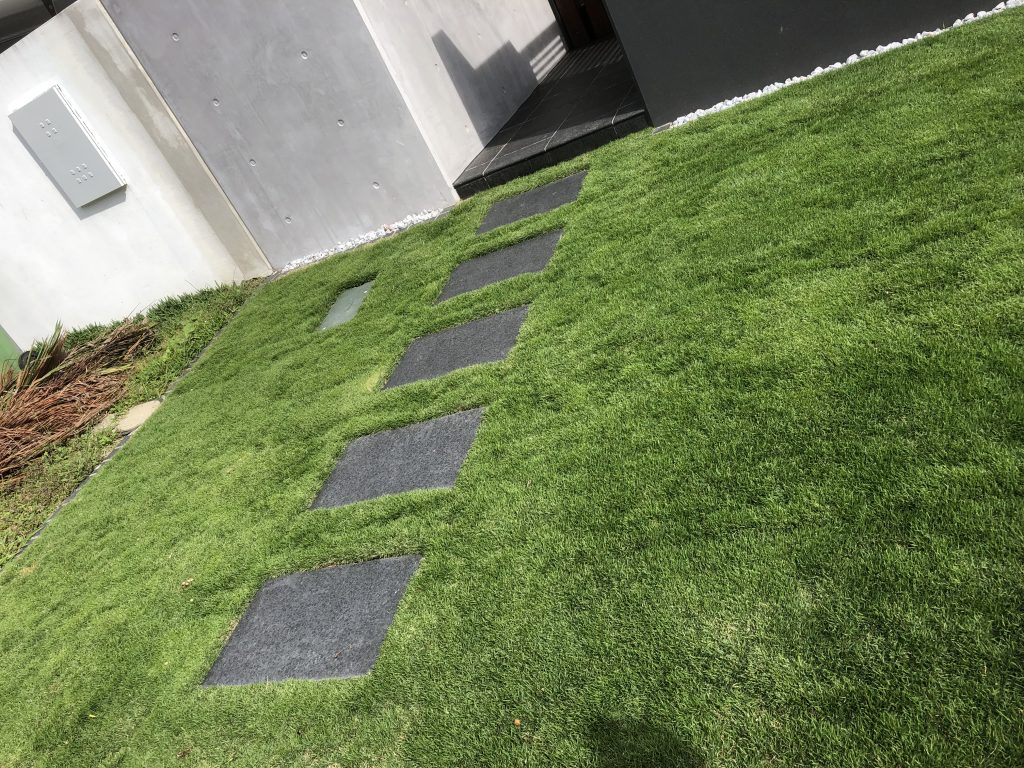 Augusta Zoysia
Augusta is a stunning deep green lawn that has a very high shade tolerance and requires less mowing, fertilising and watering than other grass varieties. Its deep-rooted system makes it an efficient water user and exceptionally suitable for drought-prone regions, and areas with low rainfall or council water restrictions. Augusta has higher disease and insect resistance compared to many other warm-season types of grass.