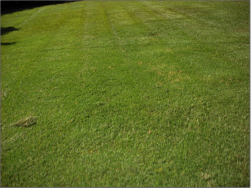 Bermuda grass, better known as Couch grass in Australia, is a warm season grass that is known for its hard-wearing qualities. Native to Africa, it is especially well-suited to Australia, demonstrating excellent performance, and cementing its place as a popular lawn variety for homeowners.
With a beautiful dark green colour that holds well in winter in temperate climates, Bermuda grass features fine, pointy tipped leaves, and is soft underfoot, which makes it ideal for backyard play for children and pets.
Bermuda grass is a vigorous grower, spreading horizontally via rhizomes and stolons. This makes it quick to establish and fast to repair, but may mean that it requires more frequent mowing than other grass varieties.
Bermuda grass is also tolerant of salt, which makes it a good choice for homes located near the beach or waterfront locations.
Shade Tolerance
Bermuda grass is a sun-loving variety, and as such, does not perform as well as other grass varieties in highly shaded areas.
In cool or frosty conditions, Bermuda grass has a tendency to go dormant but will bounce back once conditions improve.
Drought Tolerance
Bermuda grass is known for its drought tolerance, thanks to its robust deep-rooted system that gives it an advantage over other varieties during drought and stressful conditions. It is an ideal choice for areas where water restrictions are commonly imposed.
In dry hot summers, where Bermuda grass has dried off due to lack of water, it is one of the first turf varieties to easily recover.
Wear Tolerance
Bermuda grass has earned the reputation as the 'go-to' turf variety for schools and sports fields, thanks to its excellent wear tolerance.
Bermuda grass is an excellent option for high traffic areas and will cope with pets or children playing in the yard. It forms a moderate thatch layer, which provides protection against damage, and its deep root system allows for a quick recovery if the grass is trampled.