There are three main types of insecticide: liquid, granular, and sprays.
Each has its pros and cons.
Liquid – Emulsifiable concentrates are easy to use and measure and will not block screens or nozzles. Flowables contain finely ground particles in a liquid carrier. Both are hazardous if spilled and should always be handled with care.
Granular – Dry ready-to-use materials that are less likely to drift. They can be more expensive but are the easiest and cheapest to apply using an inexpensive hand spreader.
Spray – A premixed solution packed into an aerosol can that delivers the contents as a spray or mist. Not suitable for treating large areas.
Suitable grass types for insecticide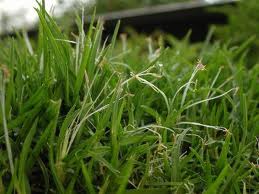 Some types of grass are more vulnerable to damage from insecticide than others.
Always read the label first, before treating your lawn with any product.
If a product is not suitable for use on your grass type, look for an alternative that is safe or you risk causing further damage.
The label will provide all the information you need about how and when or when not to apply the product. Some will need to be watered in by rain or irrigation, while others should not.
The label also will indicate when you can expect to see results and what to do if a repeat application is needed.
It is generally best to apply insecticides when conditions are cooler and dry, and late in the afternoon or evening when both grubs and adults are most likely to be active.
Avoid application during or within 24 hours of a hot spell and aim to get on top of pests before their populations have the chance to explode and cause even more damage.