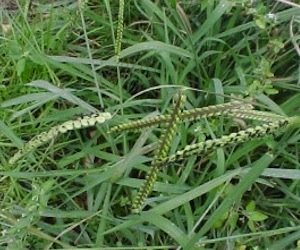 Paspalum is a tufted perennial weed mostly found in the South Eastern states of Australia, where it can grow to over a metre tall in the wild or in garden beds. Known by alternative names, including caterpillar grass, millet grass, common paspalum, Dallis grass, hairy flowered paspalum, large watergrass, Leichhardt grass, this highly adaptable weed type will completely change its growing habits when grown in a home lawn that is regularly mowed.
Paspalum is a summer-active weed, that flowers from October to April. Seeds germinate in moist warm months. Paspalum weeds often taking two to three years to reach their first flowering.
Paspalum will grow seed-producing stems, each with 3 -7 tassel-shaped seed-bearing heads that are pendulous in nature The heights of Paspalum stems vary depending on the regularity of lawn mowing and how high the lawn is cut.
Paspalum self-seeds voraciously, producing sticky seeds that stick to animals and shoes, enabling them to be transported easily to new locations.  Once established, paspalum clumps are difficult to eradicate. 
There are several varieties of Paspalum, including Bahia Grass and Water Couch. All three varieties have similar characteristics – common paspalum grows to 1m, while Bahia grass is a lower growing variety, and water couch is mostly found near waterways.
While regular lawn mowing should be able to control and stop this weed from spreading through the regular removal of its seeds, Paspalum simply stops growing higher and instead begins to creep along the ground.