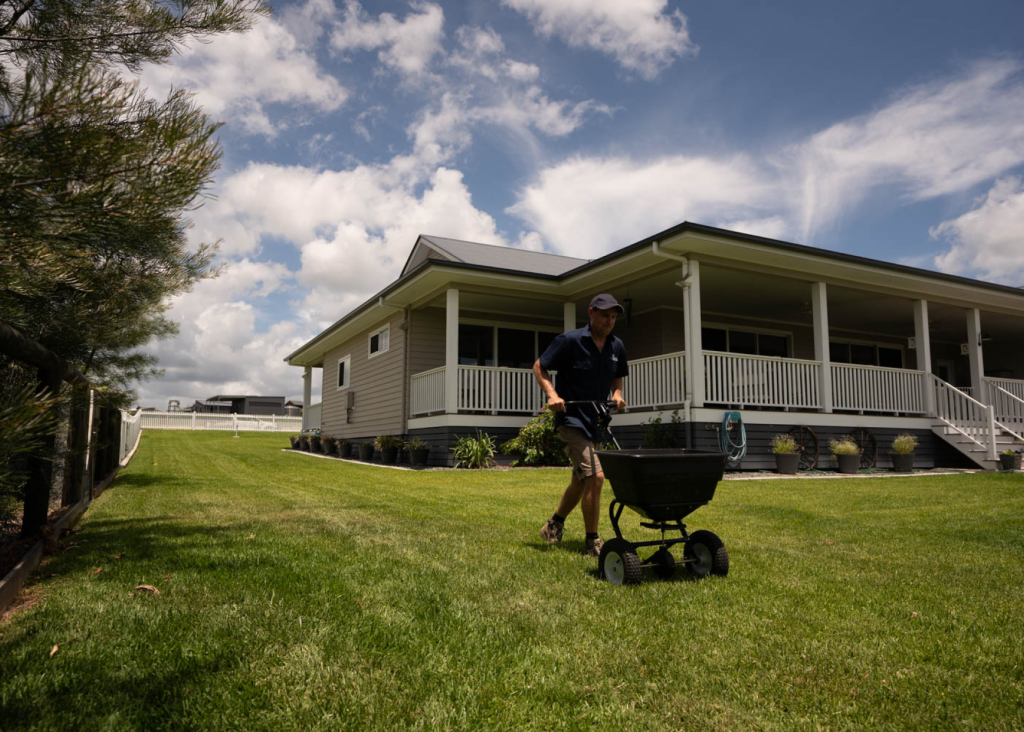 Granular lawn fertiliser is fertiliser known as dry pellets or solid fertiliser, and as a solid, this fertiliser is spread onto your lawn.
Granular fertilisers are slow-release meaning they first must break down and dissolve in water in the soil before the lawn absorbs the feeding benefits.
Most importantly, granular fertilisers contain slow-release nitrogen which provides effective greening-up of your lawn as well as extended feeding.
Therefore due to their slow-release, granular fertilisers are also good for feeding lawns prior to spring growth, at the end of the growing season, and even mid-winter depending on the type of grass you have planted.
Granular fertilisers are easy to apply with either a hand or push spreader and are popular in areas that receive a lot of sun, or in hot climates as they don't collect on the leaf foliage and cause burning.
In fact, granular fertilisers can be applied at any time of the day or year.
The use of granular fertilisers at low application rates also means you save money as they only need to be applied up to three times a year (twice in spring and once in autumn).
Benefits
Cheap in bulk.
Easy to store for long periods of time.
Can provide slow-release feeding to your lawn.
Less applications per year.
Efficient for use prior to laying new lawn.
Can be applied any time of day or year.
Drawbacks
Certain nutrients may not contact the roots such as phosphorus – which works to make strong lawn roots especially heading into winter.
Harder to apply evenly.
Slow nutrient uptake.
Can be bulky and hard to handle.
Granular fertilisers break-down in damp environments.
Granules need moisture to break down so not as effective in drier weather.
Nutrients are slowly absorbed by the roots which takes a few days longer.
Pricing
Granular fertilisers can range in price – you can pay $27 for a 4kg bucket or $88 for a 20kg bag.