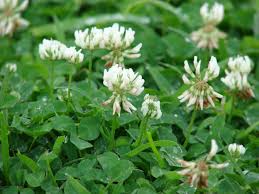 The presence of Clover in lawns can be an indicator of low Nitrogen levels in the soil.
Clover requires soil with LOW Nitrogen levels because this plant can pull its Nitrogen requirement from the air.
Lawns love Nitrogen in the soil, and that's why it's so important to feed our lawns with Nitrogen in the form of Organic Lawn Fertilisers, Standard Lawn Fertilisers, or by leaving the clippings on the lawn after mowing.
As soon as lawn soils begin to lack Nitrogen – the lawn will become in poor health. And a lawn in poor health will be highly prone to other weeds, pests, and diseases, and will not have the necessary strength to fight off these infestations naturally by itself.
When we remember the important basic principle of prevention being better than the cure in Organic Lawn Care, we see the importance of keeping our lawns in optimum health so they don't suffer problems that may later require chemical treatments. So, let's get our lawn back to good health, and keep it there.