Water wisely
When watering is an issue, you want to make sure you're using water wisely. Water early in the morning for about 15 minutes so the lawn can absorb the moisture more effectively. Alternately, water parts of the lawn that are most in need (drying out more) or the areas you want to stay green.

Mowing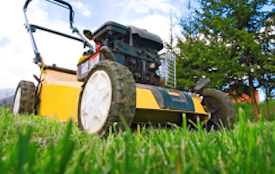 Keep the mower cutting height as high as possible so the lawn retains all the moisture that it can. Keep your blades sharp, as blunt ones tend to rip the lawn, leaving it with jagged leaf edges which dry out quickly and turn brown. 

Wetting Agents
Moisture retention agents are a secret weapon and the most underrated products on the lawn market and should be in every garden shed. They are easy to click onto your hose and can cover an area up to 150 square metres. During a dry spell or a drought, use a moisture retention agent every four or five weeks to extend your watering and make it more effective.

Reduce foot traffic
Where at all possible, protect the lawn. Reduce the amount of human and pet foot traffic. The weight from the foot traffic compacts the soil making it harder for the lawn's roots to penetrate soil moisture. An overall reduction in lawn traffic will help it spring back to life more effectively once the drought is over.