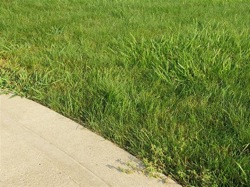 Crabgrass is easily known by most people, it is most noticeable by its wide leaf blade and grass-like appearance.
This grass, however, will send out tough stems with fingers of seed heads at its tips. Crabgrass will become most prominent when its leaf blades grow faster than the surrounding lawn and when it reaches out and become taller than the other turf.
The seed production of Crabgrass is extremely prolific.
Every season, a single weed can send out thousands of seeds, so it's easy to see how it can quickly spread and take over and ruin an entire lawn.