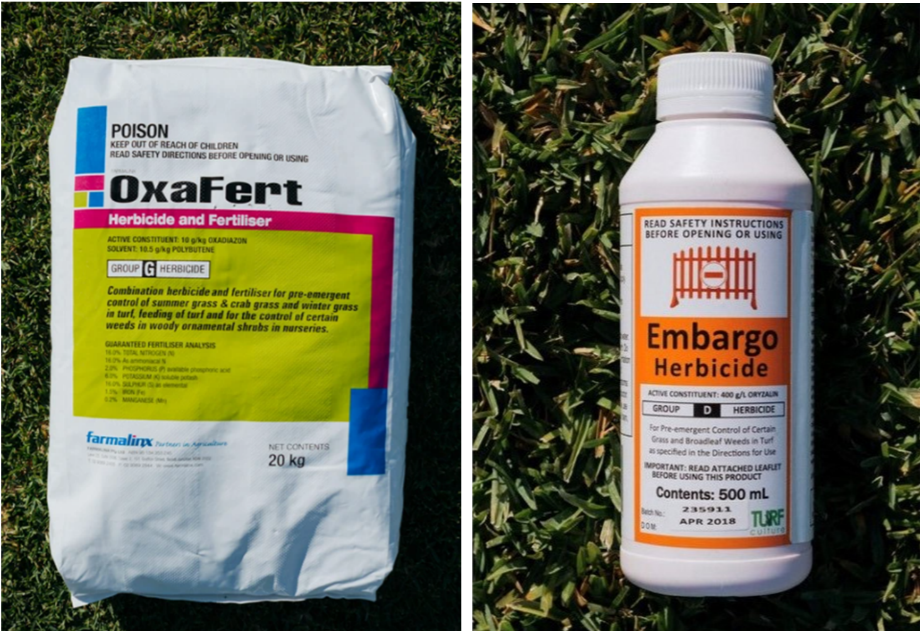 Out of all the weed types out there, Winter Grass is actually a very easy weed to kill, but only if it's done at the right time.
Winter Grass Weed Killer is diluted with water in a watering can or spraying bottle as per manufacturer's guidelines, and applied to the entire lawn, not just to the area which appears most affected.
Be sure to measure the size of your lawn before treatment to ensure the correct dosage is applied.
Once the Winter Grass Killer is applied to the turf,  lightly water your lawn which helps filtrate the poison down to the roots of the Winter Grass where it does its work.
You should see the Winter Grass die off within 2 weeks.
Herbicides should be marked as either Safe or Not To Be Used on Buffalo lawns.
myhomeTURF recommends two types of pre-emergent herbicides – Oxafert and Emergent – both well respected products of LawnPride Australia.
Oxafert (left) is a combination product containing fertiliser and pre-emergent herbicide for the control of Crowsfoot Grass, Summer Grass, Winter Grass and Oxalis. 
Embargo (right) is effective pre-emergent control of certain grass and broadleaf weeds in Buffalo turf. Including Crowsfoot Grass, Summer Grass, Winter Grass, and other grassy weeds.