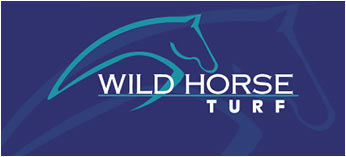 Wild Horse Turf is a family owned and operated business with a focus on producing a quality product ideally suited to Australia's unique climate. Located in the Glass House Mountains of Queensland's Sunshine Coast, Wild Horse Turf doesn't grow the most grass – it grows the best grass.
At the helm are Dean and Amanda Smyth, who, along with their experienced and reliable team, are committed to growing top notch turf and distributing it in a fast and reliable fashion to the domestic, commercial and recreational market.
Since its inception in 2004, Wild Horse Turf has kept abreast of industry trends and implemented innovative farming practices that have enabled it to grow a product that stands the test of time. Over the years it has also streamlined the production processes in order to ensure turf is in mint condition at the point of sale.
Passionate about their product, Wild Horse Turf has built-up and maintained an enviable reputation that has seen it provide grass to a variety of well-known venues, including Allan Border Field; the home of Queensland cricket.
Wild Horse Turf has also become a household name across the Sunshine Coast, Brisbane and Ipswich because it delivers first-class turf with a smile and invaluable advice. Uniquely, it also provides an after-sale service whereby Dean and Amanda encourage customers to call with any questions regarding their new lawn. They just love to talk turf!
Wild Horse Turf is proud to offer SKYE Interest Free* Payment options. Call us to find out more information today.