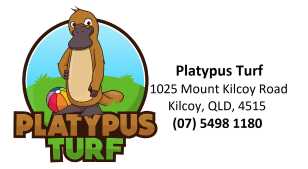 Platypus Turf is in the picturesque valley of Mount Kilcoy located in Queensland's Somerset region. A prominent feature flowing through the middle of the property is a freshwater creek which is home to their very own Platypus family. Beautiful rich creek flats grow the finest quality Palmetto Buffalo Turf and soft falling rainfall, from the edge of Conondale Rainforest, year-round keeps the turf soft, lush and green.
The farm is owned by the Nunn family, fifth generation farmers with Matthew, Jeremy and Noémie all living and working on the property.
Platypus Turf offers a delivery and installation service and will deliver to any area from the Tweed to Toowoomba to the Sunshine Coast and Brisbane.
Farm visits are encouraged.